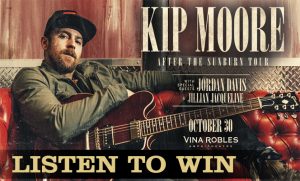 Kip Moore 
Listen to Jay & Jessie all week for your chance to win a pair of tickets to see Kip Moore at Vina Robles Amphitheatre on Tuesday, October 30th!
CLICK HERE
for more info!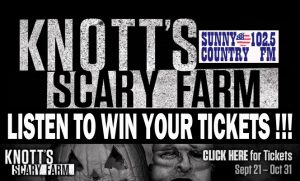 The largest and most haunting Halloween experience in Southern California features uniquely haunted mazes and attractions, sinister shows and more than 1,000 horrifying creatures lurking in the fog and hiding in every corner of the park! Listen all week to win tickets! 
CLICK HERE
 for more info!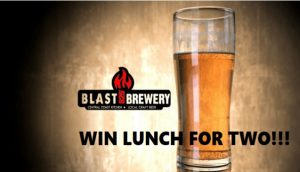 Lunch for 2 at Blast 825 Brewery
Wake up with Jay and Jessie weekday mornings to catch the Early Bird song of the day! They'll give you the keyword between 6-6:30am then listen for the Early Bird song to play and call in and win free lunch for two from Blast 825 Brewery!
CLICK HERE
for more info on Blast 825 Brewery (Formerly Rooney's Irish Pub)!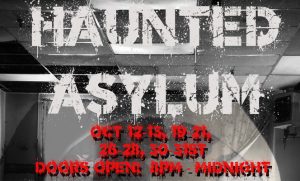 Haunted Asylum 
Sunny Country has your tickets to check out the Haunted Asylum in Lompoc all week! Located at the abandoned Old Maple High School on Carob St. near Vandenber AFB! Tickets are only $10 at the door or listen to Catfish all week to win a free pair! Not recommended for kids under 12!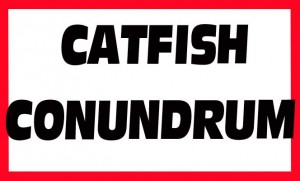 Catfish Conundrum 
Don't miss the Catfish Conundrum every weekday afternoon! Solve the conundrum and win a new, fun prize every week!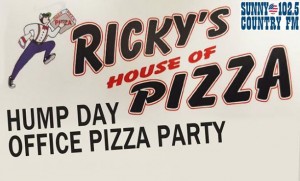 Sunny Country's Pizza Party!
Sign up to win a pizza party for you and your office! Plus Sunny Country will even deliver it! We'll bring you 3 large pizzas and a two liter of soda from Ricky's House of Pizza!
CLICK HERE to enter